STEPH & DANNY Zzzz: Niagara's GIANT New Morning Show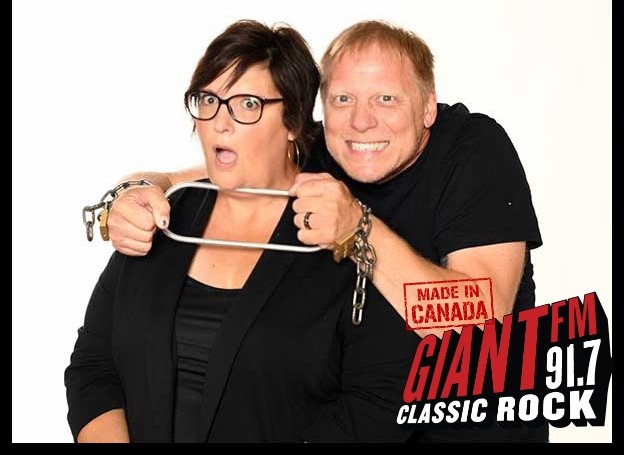 By David DeRocco dave@gobeweekly.com https://twitter.com/?lang=en
Giant things are happening on the airwaves over Niagara, and that may be good news for fans of terrestrial-based morning radio.
That's because Welland-based classic rock station 91.7 GIANT-FM has launched an all-new morning show featuring Steph Mizzi and Daniel Paulin a.k.a. STEPH AND DANNY Zzzz, now heard weekdays from 5:00-9:00a.m. The move sees former GIANT-FM morning host Brian Salmon moving into the midday slot on sister station Country 89 after more than three decades in the role. The new show is also the first in the area to give top billing to its female host, a fact not lost on Mizzi.
"I'll be honest, I was extremely happy to see that (station owner) Wellport Broadcasting wanted to take this chance and really make a change," said Mizzi, who leaves her shift on Country 89 to return to GIANT-FM. "As we know, women in radio have been the highlight and the topic of conversation over the last number of months and not in a good way. To sort of shift that and take that lead role is a really exciting opportunity for myself and my career."
Danny Zzzz is also making a return to morning radio after serving as GIANT-FM's evening host for most of the last year. Prior to gaining international acclaim with his breathtaking stunts on America's Got Talent and similar shows in Italy and Australia, the multi-talented escape artist/hypnotist/magician spent time developing his "Danimal" alter-ego with competing local rock station, 97.7 HTZ-FM. Given his proclivity for extreme stunts and edgy radio, what kind of leeway does Paulin think he'll get when GIANT'S new corporate overlords My Broadcasting Corporation officially take over the station?
"I think that I have just enough radio history in the past to understand the fundamentals of radio," said Paulin, who performed over 4,000 comedy hypnosis and magic shows during his run in Niagara Falls. "Coming in here, my large personality got my foot in the door, and I think what I bring to the station is not what is normally expected of a host. When Steph and I are engaging, I'm still the Formula One car, I'm still the loose cannon. But I haven't spent the last 20 years practicing station call letters and formula. I don't always do bits the way generally the way radio people do. Because of that, I think it's going to sound natural."
Both Steph and Dan agree that the time they've spent working together doing Facebook Live events on Country 89 gives them a comfort and familiarity that should translate to some fun morning radio. That said, the bar of performance has been set high – GIANT-FM regularly ranks as the #1 station in the market, outgunning the perennial ratings leaders at St. Catharines BELL Media stations MOVE 105.7 and 97.7 HTZ-FM. However, the pair hope to bring a fresh new approach to mornings in Niagara that hasn't really been heard here since the late 80s and early 90s.
"It's funny you should say that it's not the wild west of 80s or 90s," said Mizzi. "That's what we want to bring back. Definitely not as extreme, but definitely a little more of that spirit. That's what radio is missing, that personal fun touch that's not too over the top and offensive."
Paulin agrees with that sentiment, and says he is ready and willing to do all it takes to bring a spontaneous energy to the morning show.
"I think that everything we did in radio in the 80s and 90s is what's missing from radio today. Now, we can't duct tape someone to a pole or do those ridiculous things we used to. But that doesn't mean we can't bring that same humour and local interaction back. We're going to put out a tight, cleaner, entertaining show that will be interactive both inside and outside the station."
If there's one thing GIANT-FM has done well beyond playing a broad mix of classic rock it's connect with the local community, and the station's street presence has been felt from Fort Erie to Grimsby. How she will connect with the core male demographic as the female lead on the show doesn't worry Mizzi, who had previously spent nearly eight years as Salmon's former co-host.
"I look across the desk and see the guys," she said. "Even the last couple weeks, really chatting with my husband and friends, asking they what they like that they're not getting now. I use my husband, guys around the building as my point of perspective so I can see what they're interested in and bring it onto the air. It's easier with Danny because he's in the demographic."
As for Danny Zzzz, he's happy to be the comic side-kick on Niagara's newest morning show.
"Make no doubt about it, she is the leader. She has a lot of responsibility and the position that she's in is deserved. She's done all the work. She deserves to be in the hot seat 100 percent. I'm coasting in for the ride."
STEPH AND DANNY Zzzz plan to be highly engaged in community activities, both as part of the show but also out of a sheer passion for engaging with local people.
"I still love the local aspect of radio," said Mizzi. "I'm in the community as a mom and being in this job. Predominantly being mom, I'm involved in a lot of different things in the community and I love when people come up and say I really enjoyed what you did today or I can't believe your kids did that. I still love that part of it, that people want to tune in, hear different things, and share that. That keeps me sticking around in the business. We're lucky. With all the changes that go on in the business, the management here at GIANT-FM and Country 89, they really do want what's best not for them and the bottom line, but what's best for the employees and community. The listeners will drive the ship. They'll dictate how it grows. We're excited to be a part of it."
---------------------------------------------------------------------------------------------------------------
Looking for things to do in Niagara? Need Niagara event listings? Searching for Niagara's best entertainment, music and theatre? Want to search Niagara concert listings? Before you GO out, BE informed. Log onto https://gobeweekly.com/.